MDMA therapy in the Netherlands against PTSD
Vanwege het nieuws dat MDMA goed werkt tijdens een behandeling tegen PTSS, wat post traumatische stress syndroom betekend, krijgen wij veel aanvragen om MDMA als psychedelica te gebruiken tijdens therapie. Wat de meeste nieuwsberichten vergeten te melden is dat MDMA een aantal nadelen heeft ten op zichten van een psilocybine behandeling.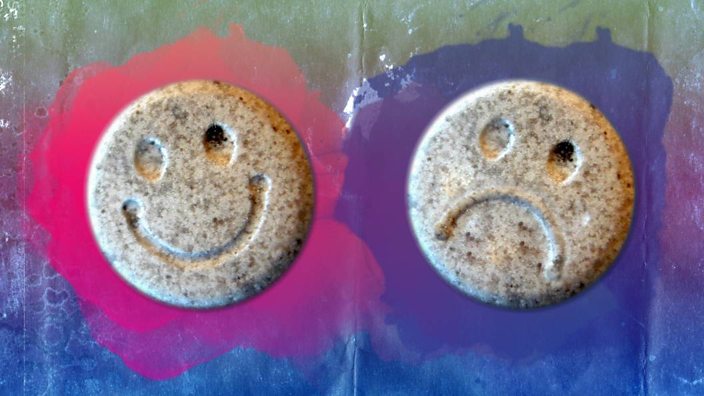 Hoe werkt MDMA?
Een half uur na inname veroorzaakt MDMA een tijdelijk sterk verhoogde vrijgave van serotonine in en het blokkeert de heropname en de aanmaak van nieuw serotonine. Daarnaast blokkeert MDMA de heropname van de neurotransmitters noradrenaline en dopamine. Na 1,5 uur wordt de top van dit effect bereikt. Geleidelijk aan wordt het effect minder en na 6 uur is de werking van MDMA weg. De serotonine-voorraden in de neuronen zijn dan op en de concentratie in het brein neemt af. Bovendien trekken receptoren voor signaalstoffen zich terug in de cel, waardoor ze minder gevoelig worden.
De voordelen van MDMA therapie

Het voordeel van MDMA tijdens therapie is dat vanwege de verhoogde activiteit van serotonine de depressieve gevoelens en angsten naar de achtergrond worden gedrukt. Bij het verwerken van PTSS zonder deze overweldigende angst die het kan voortbrengen kan men beter denken in de vorm van oplossingen in plaats van problemen. Dit kan een verwerking van het verleden ten goede komen. MDMA therapie wordt vaak gecombineerd met blootstellingstherapie om het brein nieuwe verbanden te laten leggen met wat voorheen een trigger was voor angst.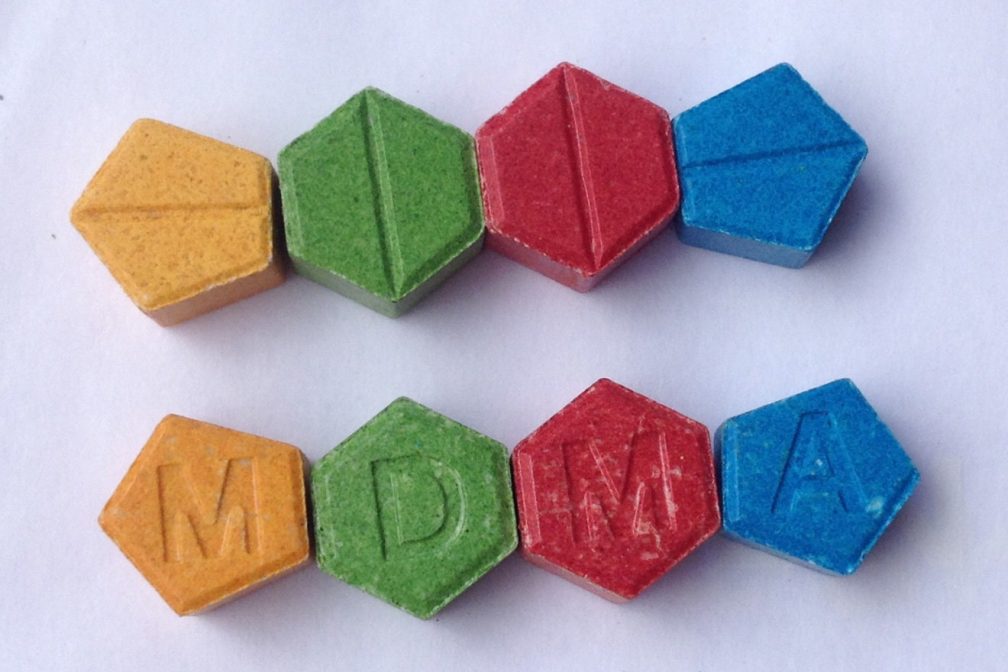 De nadelen van MDMA therapie

Aan MDMA therapie kleven naast de voordelen ook nadelen aan. De dip van de serotonine voorraad komt dat er een serotonine uitputting ontstaat en omdat de serotonine receptoren minder goed te prikkelen zijn. Dit zorgt voor depressieve gevoelens, het terugkomen van angst en daarmee de PTSS symptomen. Verder is MDMA illegaal en zuiver MDMA komen we nog zelden tegen omdat het vaak vermengt wordt met andere stoffen die er op lijken. Hoge doseringen MDMA kunnen uitdroging, nierfalen, leverschade en hersenschade veroorzaken.
Het beste alternatief op MDMA therapie
Uit onze ervaringen en als we kijken naar de biochemische reacties kunnen wij u vertellen dat MDMA niet de beste psychedelica is om PTSS te behandelen. Psilocybine heeft de voordelen die MDMA biedt, namelijk het verhogen van de activiteit van de serotoninereceptor 5HT2a. Psilocybine kan de 5HT2a receptor veel meer stimuleren dan MDMA omdat psilocybine niet de eigen voorraad serotonine uitput maar als extra aanwezigheid fungeert. Tevens trekken de receptoren zich niet terug waardoor er geen dip ontstaat. Een ander voordeel is dat dopamine geen rol speelt van psilocybine, maar wel bij MDMA. Terwijl serotonine zorgt voor een gevoel van saamhorigheid zal dopamine je juist meer als individu laten voelen. Mede door dit feit en het feit dat je met psilocybine een veel hogere stimulans van de 5HT2a receptor kan bewerkstelligen is het makkelijker om met psilocybine een ego death te creëren en is dat met MDMA therapie bijna niet mogelijk. Een ego death kan heel veel betekenen in de verwerking van trauma, het oplossen van angst en het bevechten van een depressie.
Lees hier meer over de "ego death" als behandeling

Lees hier meer over de werking van psilocybine therapie
Meer dan alleen therapie met psychedelica
Wij doen meer dan alleen de psychedelische therapie begeleiden. Voorafgaande de trip maken we een plan om door middel van voeding, supplementen en beweging iemand lichamelijk voor te bereiden op de trip. Het doel hiervan is om er voor te zorgen dat onze klanten in gaan zien dat goed voor jezelf zorgen wordt beloond. Dit inzicht wordt pas echt duidelijk tijdens de trip omdat de trip dan ook beter werkt doordat bijvoorbeeld de receptoren gevoeliger zijn gemaakt en omdat tijdens die trip dan opeens alles gaat "landen". Tijdens de voorbereiding geven we ook soms wat opdrachten waarvan de betekenis tijdens de trip pas duidelijk wordt.
What a course in trip therapy looks like
This is because we believe that a healthy body provides a healthy foundation for being psychologically healthy as well. We therefore make every effort to address all facets of existence, which is why we also advise our clients on basic nutrition, exercise and supplements. The whole body and mind approach ensures the best short- and long-term results. Typically, for most clients, we follow a schedule that looks like the following:
Advice on nutrition exercise and supplements based on point 1
A period of 2-3 weeks of progress viewing point 2
An individual psychedelic ceremony (unless a group has additional utility or preference)
Review of the truffle ceremony on the same day
After about 1-2 weeks another follow-up discussion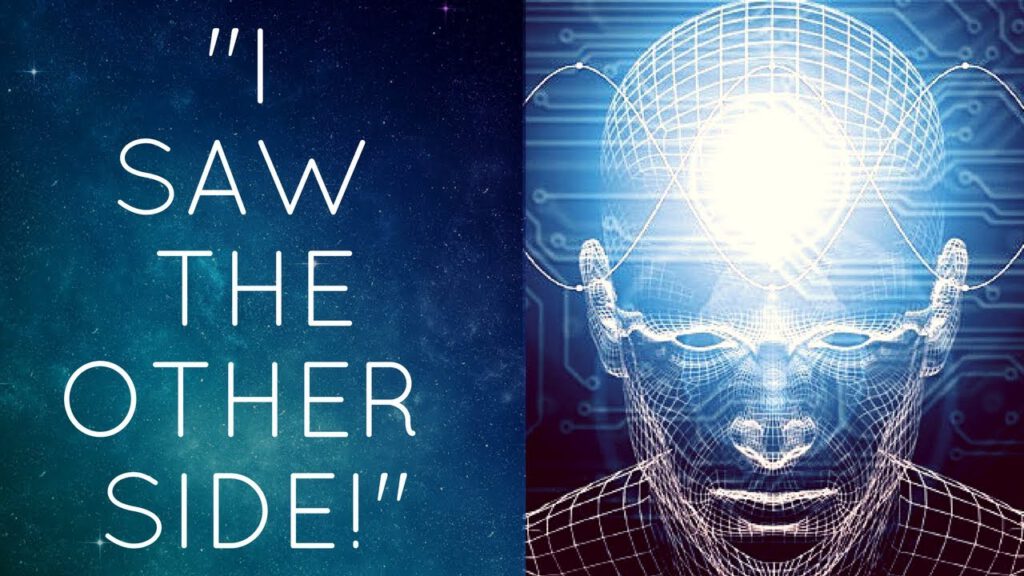 Extras during ceremony
Our psychedelic therapy through a truffle ceremony includes the following extras to make the experience even better :
Individual counseling truffle ceremony
Aromatherapy (during trip)
Color therapy (during trip)
Musical support
Possibilities of trip therapy
The greatest benefit of a trip therapy session is that through introspection (looking within yourself) we can slightly direct you to change your self-image. Many addictions, fears, stress, depression and other personal problems arise from a (negative) wrong self-image, from non-real thoughts or from subconscious stress, which stem from fears in the subconscious. If you allow yourself the best based on food, thought and exercise, this will have a positive effect during and after the trip because these lifestyle changes will be found logical during the trip. Be good to your body and mind and they will then be good to you. You are worthy of being the best version of yourself.
Read more about our approach here
What others are saying about trip therapy
A client's story can often tell more about what we do that writing about ourselves.
Read all the reviews from our "customers" here
Are you curious what we can do for you?
Before signing up with us, it is best to learn as much as you can about trip therapy. Trip therapy works best when someone is ready for it. Of course we are ready for you if you are ready to make your life more pleasant and healthy through physical health and psychedelic therapy. You can expect the best personal service from us.
Read more about who psychedelic therapy is suitable for here
Questions?
Would you first like to know more about what we do and who we are? You can ask us your ears off. You can do this through the options below. Choose a medium you feel comfortable with.

Public questions via forum: Click here
Phone: +31640898455
Email: info@ triptherapie.nl
Contact form: Click here
Facebook: Click here
Twitter: Click here